Brief profile of Fr.Straub
We would like to introduce Father Jacob Straub, a celebrant priest of the Mass on 4th June.
Father Jacob Straub is a diocesan priest from the Diocese of Covington, Kentucky, USA.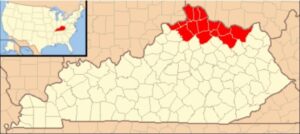 Covington Diocese(red) is located in Kentucky
He was born around Covington and is the oldest of four children. He entered seminary in 2006 and was ordained a priest in Covington in 2013. He has served across a variety of parishes and has also taught in college and high school. He has been a priest for both English and Hispanic parishes. He is currently a parish priest and a high school teacher at a local Catholic school and has been at these assignments since 2020.