Home
Welcome to the site of Una Voce Japan !
Una Voce Japan (UVJ) aims at safeguarding the rich liturgical heritage of the Catholic Church and promoting its use in the sacramental life of the Church in J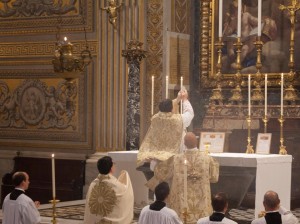 apan. We are in full obedience to the Magisterium of the Church and to the local ordinaries.
 For more information about the Mass and the Meditation meeting, please click here.
Chaplain: Canon Raphael Katsuyuki Ueda (Institute of Christ the King Sovereign Priest, San Jose, CA, USA)
Fr. Augustin Toshio Ikeda (S.S.P) passed away on 31st March, 2019. He had celebrated the Extraordinary Mass at our request since 2012. Please pray for his eternal peace.