Greeting from Fr. Christopher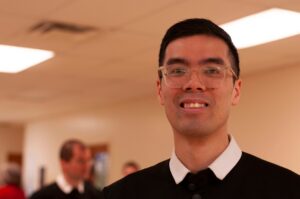 Greetings to everyone in Una Voce Japan. I'm very excited to be coming to Japan for a third time, though it is my first time as a priest. I have been studying Japanese as a hobby since high school, and it has been a long dream of mine to be able to serve in Japan in some capacity. I'm hoping to learn more about the life and faith of Catholics in Japan, and I will be happy to celebrate the Traditional Mass while there and meet all of you. I hope it may be the first of many such occasions.
Biography
---
After studying physics at McMaster University, Christopher knew he had a higher calling and joined the seminary on a journey to priesthood. On Saturday, November 6, 2021, at Holy Family Church in Toronto, Christopher Thiên Ý Huỳnh was ordained. His permanent home is the Toronto Oratory.
He has been granted permission to celebrate Traditional Latin Mass by His Eminence Thomas Cardinal Collins, Archbishop of Toronto, and this permission is confirmed by Holy See.