【Extraordinary Sung Mass】on 24th Jan. 2016 at Akabane, Tokyo, Japan
The Sung Mass "Missa cantata" in Extraordinary Form of the Roman rite will be held in Tokyo. Celebrant is a friend of us, the Reverend Monsignor David F. Link.
You are kindly invited to assist.
Septuagesima Sunday, II Class, Violet. (Dominica in Septuagesima).
Day : 24th Jan. 2016
Time : 14:00 : Rosary, Confession
14:20  : Asperges ceremony, Extraordinary Sung Mass.
Asperges me,
Circumdederunt me, Adjutor, Kyriale VIII (De Angelis), Credo III, De profundis, Bonum est, Ilumina
Location: 2-1-12, Akabane, Kita-ku, Tokyo Map
(Please refrain from the inquiry to The Assumption of Our Lady Catholic Church, Akabane)
Celebrant: The Reverend Monsignor David F Link (A parish priest of the diocese of Oakland, CA, U.S.A. A Knight of the Holy Sepulchre in Jerusalem. A bi-ritual priest of the  Roman Catholic and the Melkite Greek Catholic, who celebrates the Roman Rite Masses < the ordinary and extraordinary forms> and the Melkite Rite Masses in the diocese of Oakland)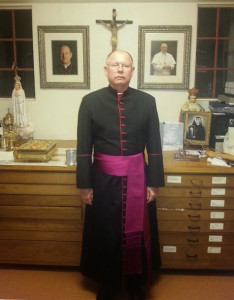 Fee: Free donation
Held by: Faithfuls retreat group in the Assumption of Our Lady Catholic Church, Akabane. 

Please contact to: (T.TAKAI)