Tridentine Mass (Third Sunday of Advent) on 16th Dec. 2012
The Sung Mass "Missa cantata"  in Extraordinary Form of the Roman rite was held.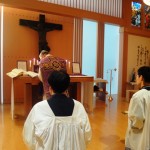 Location: Wakaba S.S.P. house, 1-5 Wakaba, Shinjyuku-ku, Tokyo Map
(Please refrain from the inquiry to S.S.P. house.)
On 16th Dec. 2012, 14:00 Open, 14:30 Rosary (in Latin), 15:00 Mass
Priest: Fr. Augustine Toshio Ikeda, S.S.P.
Held by: Una Voce Japan
After Mass, there will be a social gathering with members of Una Voce Japan. We welcome anyone.
Gregoria Chants; Ave Maria, Kyriale XVII (A), Credo IV, Alma redemptoris mater
Please contact to: