Ordo 2023 for traditional liturgy by FIUV
The International Federation of Una Voce (FIUV) has issued a liturgical calendar for traditional liturgies (2023). This liturgical calendar, called the Ordo, is freely available online.
Link for full copy is here.
The article by FIUV on this Ordo can be viewed here. 
Just as the liturgy is not only for clergy and religious, Ordo is also useful for the lay persons . The FIUV liturgical calendar is intended for use anywhere in the world. Therefore, it is written in Latin, which is the official language of the Catholic Church, and holidays unique to local churches are not included in the Ordo. Let's take the 1/1 part specifically.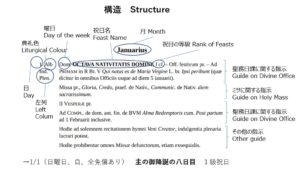 Abbreviations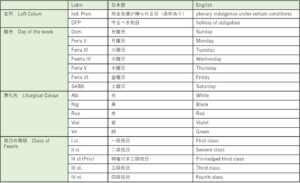 Due to the Latin and many abbreviations, it seems difficult to understand at first glance. However, as shown in the image above, once you understand the structure, you will be able to guess what is written. The more you read it, the more you will find that it contains all the information you need in a concise manner. The more you get used to it, the more you know its depth. This feeling has something to do with the traditional Latin Mass.
Next week, Advent begins and we will welcome a new liturgical year.Looking back on this year 2022, we had traditional Masses in Tokyo and Osaka for the first time in 3 years, and had online Sunday Vesper with my friends. I am sure that I have been blessed enough to forget all my troubles. May we be able to share this blessing with more people in 2023.